Landscape Options
Landscape Options are a range of products that will add that extra something to your landscaping ideas. Products like the genuine Cotswold walling stone for that special feature, or the self binding path gravel which is perfect for that smooth surfaced garden path or walkways. There are cobbles of all sizes, various coloured and sized slate. Or for the more adventurous - the gabion stone. Plus of course screened soil, ready for planting!
Some of these products are 'bulky' and are only suitable for delivery in bulk bags (approx 850kgs), others will be available in both poly bags approx 23kg and bulk bags. Check individual products for full details.
---
This genuine Cotswold stone with its traditional honey and cream colours is both hard wearing and easy to build with. Can be used to create a variety of features, such as the traditional dry stone wall, retaining walls, cladding or a Haha!
Sizes available: Various
View Range
A quarried limestone with hints of the Cotswold cream colours was traditionally used with a gabion basket for ground stabilisation. Now can be seen being used in more creative features: gabion walls, waterfront designs for example.
Sizes available: 200-100mm approx
View Range
Self Binding Path Gravel is a crushed limestone product than when laid correctly produces an even, stable, hard wearing surface; eg: suitable for garden paths, hardstandings, countryside walk and cycle tracks.
Don't forget your sub-base materials - Construction aggregates
View Range
The Oxford shingle range is available in a mixture of natural beiges and earthy colours, so they'll fit nicely into any gardening design, while still adding that little something extra to the landscape.
Sizes available: 20mm • 10mm • 6mm
View Range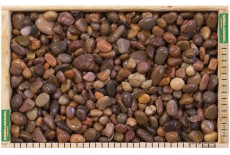 An attractive range of seaside pebbles in a variety of colours and different sizes. The Scottish Cobbles are a mixture of whites/creams to dark shades such as browns and greys - and the smooth shape and texture of the stones add to their beauty. They are perfect for water features, streams, rockeries, beach effects or just as a simple decoration.
Sizes available: 15-25mm • 25-40mm • 40-80mm • 80-120mm

View Range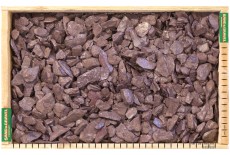 An attractive range of eco-friendly coloured slate - green, grey, and plum. Ideal for water features, enhancing your paving projects or as an alternative weed suppressant to wood chip.
Sizes available 20-40mm in three different colours
View Range
With greater consideration being given to how 'run-off' water is being managed, planners often ask for a Permeable Paving Sub-Bases (SUDS Aggregates) to be used. The aggregate is an Open Grade Crushed Rock (OGCR) and is an ideal product for allowing the surface water to more effectively soak away into the ground, rather than running into the already overworked sewers, drains and waterways. Which can often result in flash floods!
View Range
Crushed and graded limestone is available in two sizes and has a variety of uses. Ideal for base layers for driveways, tracks plus pitches and arenas.

View Range
MOT Type 1 is simply a crushed limestone that has met the requirements of the Department of Transport's specification for highway works. However, MOT Type1 is a popular product as a sub-base (hardcore) when laying patios and driveways due to its solidity.

View Range